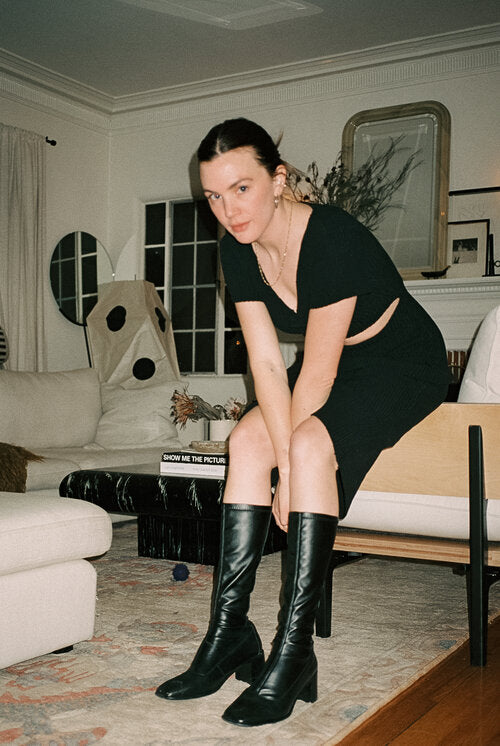 Portrait Series : Madelynn Furlong
Minnesota native / Los Angeles based Madelynn Furlong gained attention as a fashion influencer, and has more recently been transitioning her passion for interior styling into MADÉ, an online visual space potential clients and creatives alike can see what makes @madelynnfurlong / @madejournal.
The first thing you miss about your home when you're away is... 
The light in the morning, Im deeply obsessed with my home.
Where do you like to shop in LA?
I love shopping vintage - Sleeper is my current favorite!
What is your best-kept secret?
The sushi place I frequent off beverly. Its incredible. 
What five things do you always carry with you?
Im so boring when it comes to this haha, keys, wallet, sunglasses, chapstick and a good purse
Your favorite cocktail is...
Right now, an Americano
Last picture taken on your phone?
A screen shot of my home account @madejournal
What Fad Do You Wish Would Come Back? Which Do You Feel Should Stay Gone Forever?
Flavored lip gloss. Maybe for both lol. 
Where Is "Home" To You?
Currently, my dining room.
Fashion or Interior?
Interior. 
Can you tell us about your new venture, MADE?
Of course! Its (for now) an exploration in creating interiors. This year Ive been taking on select clients and working with them to furnish their spaces. I hope to have a site up soon, and cant wait to create some gorgeous content for it!
Advice you would give to one who is looking to re do their home?
Start small, one room at a time, and keep a tight color palette and shop second hand!
Current disposition:
Calm, collected. 
MADELYNN FURLONG
How did you get your start in the fashion industry? I was working as a model in New York and didn't even realize what a styling was a job. I was lucky enough to meet a few stylist who took under ...
Read more
Portrait Series : Mikaela Hållén
Stockholm based Fashion editor and stylist Mikaela Hållén sits down with us for a quick Q&A to discuss Sweden, style and lets us in on a unexpected beauty secret Mikaela wears the Danie...
Read more